andere Sprachen & Kulturkreise, Infos und Regionales
NewcomerNEWS
Drumming with Ursula Branscheid Kouyate
Claron Fidelis Mazarello
Do, 07.03.2019
23:08
Events, Frauen, Jugend, Kultur, Kunst, Live-Übertragungen, Musik, Projekte, Regionales, Soziales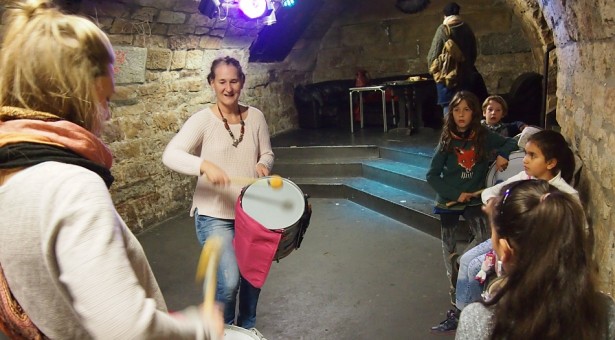 The positive commitment of Ursula Branscheid Kouyate was only on display as she was in her element during the workshop; the enthusiastic children of course, were also all up for learning something new. Post the workshop we did hear something new from what they just learnt. One rhythm 4ALL ... !
This interview with Ursula gave an idea about how one can approach learning percussions in general, and in Germany - formally, or informally. This of course is only the tip of the iceberg for someone who wishes to learn an instrument, but its an important one since it is insight about how to start. Stressing the need to listen intently, Ursula gives an understanding of how playing music is about playing music together, wherein its like a conversation between musicians and not just about playing for oneself. The lady comes from this very country, but has experience in Africa and hence her knowledge of African percussion instruments.

On November 17, 2018, at the 4ALL Fest, Ursula displayed all that she had and her experience with the children who took part in the drum workshop. The best part was the children's sweet reactions to the sound of the drums and how the seriousness on some of their faces from time to time reflected how they were concentrating on trying to be in sync with each other. And with a little bit of practise, not to mention guidance by Ursula, the children happily made it to a performance at the end of this workshop. A short one, nonetheless, this performance simply exhibited the possibilities for the evening ahead. It was the first performance, that too from first time performers who had just done a workshop on percussions with our very own Ursula. And the effort put into this workshop of about two and a half hours approximately, with a one hour pause in between (when the children indulged in a photography workshop) was simply apparent, and worthy of appreciation.

The interview also has Martin Klaus who is a musician himself, and one of the chief members of tünews, that has also featured Ursula in their music magazine, Tüsounds, for her contribution to this 4ALL event from the tunews project for the refugees. His presence also put certain things into context; definitely something to consider when interested in learning an instrument. The key, of course, like our drum workshop person Ursula Branscheid Kouyate suggests in this interview which got done at the Epplehaus artist room besides the stage in the saal during the drum workshop pause in between, is to listen first. Tune in ...
Also attached are some recorded reactions from the children about this drum workshop as moderated by Martin Klaus from tünews.
TüSounds music magazine (Ed. III)
Download (2,33 MB)
Martin_n_Kids_on_drum_Workshop.mp3
Download (24,65 MB)
Drum_Ursula_at_4ALL.mp3
KATEGORIEN

---
Autoren
---