andere Sprachen & Kulturkreise, Infos und Regionales
NewcomerNEWS
African Youth Workshop & Discussion (Interview)
This Saturday, October 13th from 3 o clock, at Club Voltaire, will be the second edition of African Youth Workshop & Discussion. So here was an interesting chat we had at the Newcomernews studio with Josephine, promoting this event. For more information, tune in ...
The program this saturday is to start with some chilling out, with drinks and some African food, then going ontowards the more intense bits. What were these intense bits ? Well, to begin with we had this chat. And the part that was most interesting was the topic about this discussion.
Now lets understand here, this was not the only topic that waill be discussed at the event so-to-speak. There were other topics of nterest to the youth, more of which one can understand at the venue this saturday itself. The word is something that triggers of conversations anyways. And we seemed to be ever so happy to just casually talk about it.
From different experiences, to is Tübingen a town where racism also happens ? The chat went all ways. Well, the answer seemed to be in the experience of each person. Then the matter is also how one deals with things like these when they are met with situations like these.
Its not really about raking a controversy, but its also about talking aout this concept and keeping it alive as we as human have a shorter memory than we think we do sometimes. All in all, the direction has to be positive. And here's what Josephine had to say about this concept and the event. This saturday - 3 p.m. onwards - at Club Voltaire. Mark your date now.
Download (40,44 MB)
Josephine-s_int_about_African_workshop_n_discussion.mp3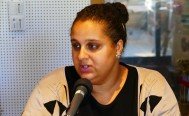 KATEGORIEN

---
Autoren
---